Innovative Application of Shape Memory Technology in Civil Infrastructure
Bassem Andrawes, Ph.D.
Professor & CEE Excellence Faculty Fellow
Department of Civil and Environmental Engineering
University of Illinois at Urbana-Champaign, USA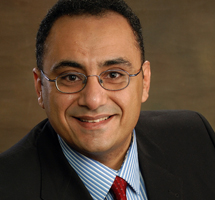 时间:5月17日(星期五)上午8:30
地点:土木工程楼232会议室
报告摘要:
Shape memory alloy (SMA) is a class of "Smart Materials" that have recently emerged as potential construction material with unique thermomechanical properties, namely shape memory effect and superelasticity. This presentation will provide brief background on this new class of materials and their potential application in civil infrastructure.
In this presentation, Prof. Andrawes will highlight four different potential applications for SMAs that have been extensively studied by the Shape Memory and Structures (SMS) research group at the University of Illinois at Urbana-Champaign.
报告人简介:
Professor Andrawes' research interests are primarily in the areas of earthquake engineering, bridge engineering, seismic retrofitting of structures, application of advanced and smart materials in structures subjected to natural and man-made hazards, constitutive modeling and testing of shape memory alloys under extreme dynamic loads, and large-scale experimental testing. He is a recipient of the prestigious National Science Foundation (NSF) CAREER award. Professor Andrawes is also an active member in the American Society of Civil Engineers (ASCE), Transportation Research Board (TRB), and the American Concrete Institute (ACI). He served on multiple technical committees including serving as the founding chair of the ASCE subcommittee on Retrofit of Structures under Dynamic Loads and on the editorial board of the ASCE Journal of Bridge Engineering.
发布人:周长东(建工系)